This post is also available in:

English

Français (French)
Introduction
In the Southeast of France in the Drôme valley at Soyans, there is an open-field and pork grower in organic agriculture. After studying economics in Valence, Jordan Magnet follows his parents track becoming farmer on his native land.
The Drôme is a pioneer department in terms of organic farming in France. Moreover, the region is well known to promote for direct sales to customers without intermediaries. In his farm, Jordan has chosen to do without inputs managing the 20 hectares of his farm in a sustainable way. The quality of his products is well known in the region.
Jordan grows mainly wheat and alfalfa on his land, paying attention to the condition of his soils. Recently, the production of fenugreek and green lentils allows him to diversify his income while integrating these crops in his rotations.
One of the specificities of his farm is the integration of the breeding of Duroc pigs and sheep in the management of his plots.
In this article we will see how the farm is an example in terms of sustainability, synergy between field crops and livestock while remaining on a human scale and adapted to the geography of the territory.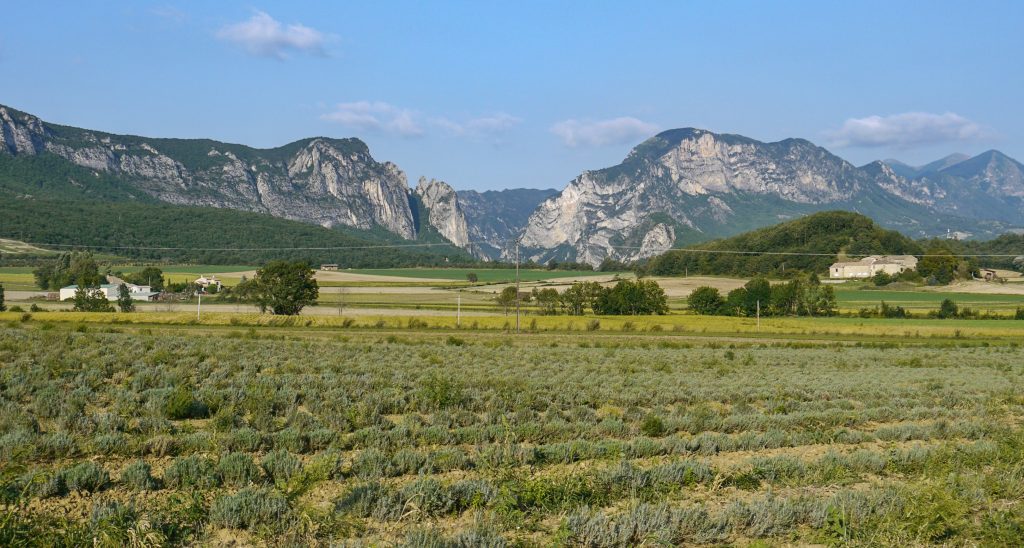 Duroc pig breeding
Duroc pigs are distinguished by their red coat and their ears that tend to fall down. They are large pigs that can reach 350kg (males). The breed originated in the United States.
Jordan's pigs are free-range year-round and are fed a rich, diverse and organic diet.
Recently, Jordan started raising sheep to help him maintain the grasslands, he would need about 50 to effectively cover his farm. The advantage of the sheep is that he can use the same fencing as for his pigs, an important argument for better time management.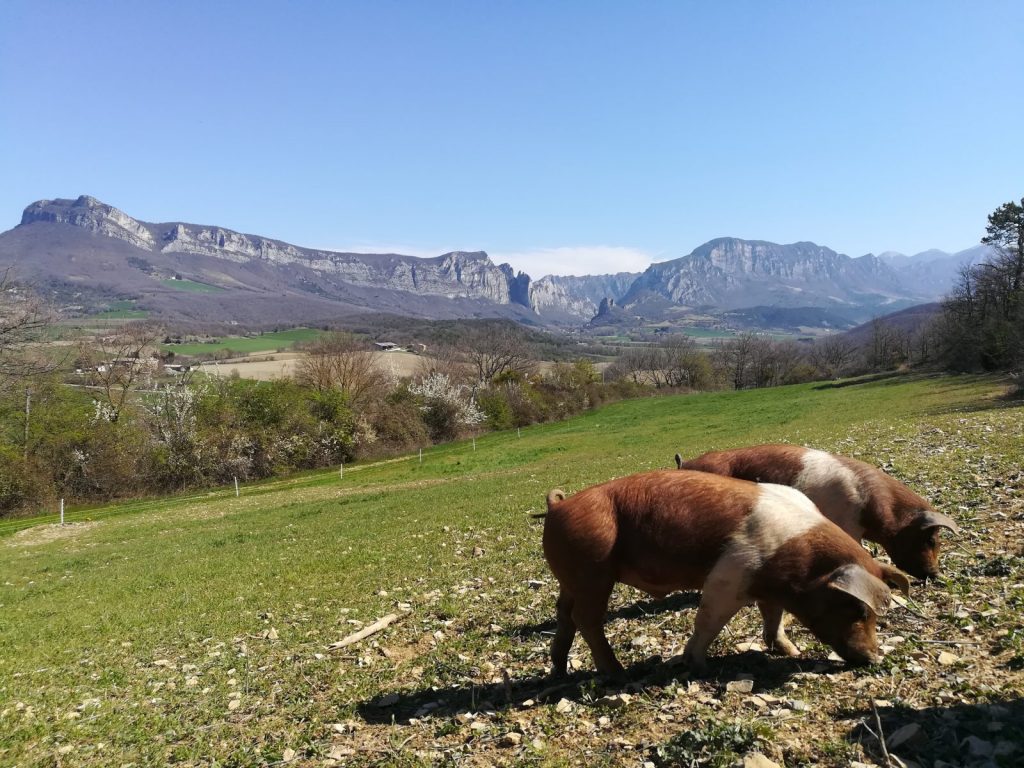 Sustainable management
The integration of livestock in rotation on the 20 ha of field crops is an important point in Jordan's model. Indeed, the pigs and sheep feeding on certain plots will activate the meadows, especially on the least accessible fields. There is a real adaptation to the geography of the territory.
This will result in better meat with more muscular animals and a healthy diversified diet. Grassland maintenance contributes to ecological diversity and soil health.
Moreover, it also presents an economic gain on the feeding costs for his animals.
Rotating field crops in cycles that include straw, annual legumes, alfalfa and even lavender will also allow Jordan to reduce weed pressure and ensure good soil management, especially organic matter levels. To do this, crops like alfalfa have a key role to play in increasing soil nitrogen levels and limiting soil depletion and erosion.
In the future, Jordan plans to conduct more accurate laboratory soil testing to better track changes in physical and chemical properties and measure the impact of his management over time.
Commercialization as close as possible to the customer
The distribution and sales model is simple: as close as possible to the customers and consumers. Jordan sells his cereals to the local cooperative (Drômoise de céréales), his alfalfa to traders and directly to farmers, his lentils on markets (in bulk) and his meat directly on markets, in grocery stores and even in certain gourmet restaurants looking for higher quality meat. Fenugreek and lavender are sold directly to processing laboratories located near the farm.
Since his installation, Jordan has been generating a positive income that has grown every year. The machinery to work the fields belongs to the local farmers' group in CUMA (Cooperative for the Use of Agricultural Equipment), which facilitated the takeover of the farm without major investment at the beginning.
Conclusion
While Jordan's operation does not (yet) include greenhouses, we have just seen a sustainable and replicable model if adapted to the geography and climate of rural areas.
We are talking about a large-scale crop/livestock farming system of moderate size (15-20 ha) with low investment, which allows for a significant valorization of its products, particularly in short circuits.
Crop management without phytosanitary products was an important criterion for Jordan before he started, as he wanted to follow a certain ethic specific to the image of Drôme agriculture.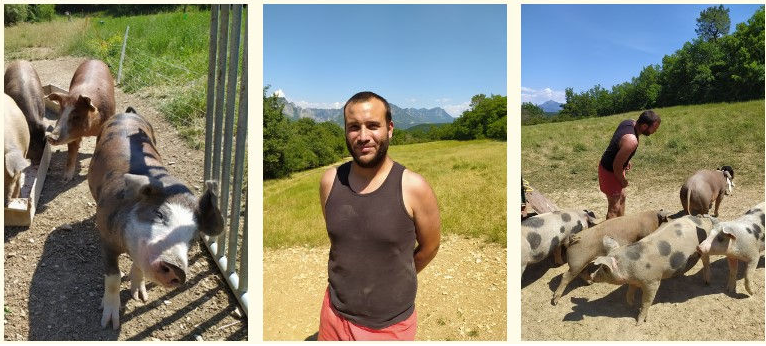 Jordan Magnet
50 route du vieux village
26400 Soyans
FRANCE
Sources:
https://www.valleedeladrome-tourisme.com/producteur-local/jordan-magnet/
https://jadrome.wixsite.com/ja26/post/portrait-de-jordan-magnet