This post is also available in:

English
Introduction
Shrimp farming is one of the fastest growing aquaculture sectors in many parts of the world. This sector has grown from a small-scale ancestral activity, in Southeast Asia more particularly in Thailand, Vietnam and Indonesia, to a global industry. The United States and Brazil are also world leaders in America in aquaculture production of shrimp.
We must distinguish between freshwater shrimp (Macrobrachium rosenbergii) and marine saltwater shrimp (Penaeus vannamei or Penaeus monodon) the latter representing 80% of the shrimp farms.
Open-fields ponds without climate control and limited water treatment system have shown their limits with the appearance of a large number of diseases and environmental problems…
Growing conditions and climate exigences
The number of shrimps in a pond (density) directly influences the performance of a rearing cycle. The intensification of farming system can also cause the development of health problems and / or stunting growth.
The management and control of environmental parameters is also essential for shrimps cultivation:
Outside climate (light exposition, temperature, rainfall)

Inside climate (temperature, relative humidity, odor treatment)

Water quality (healthiness, oxygenation, salinity, eutrophication)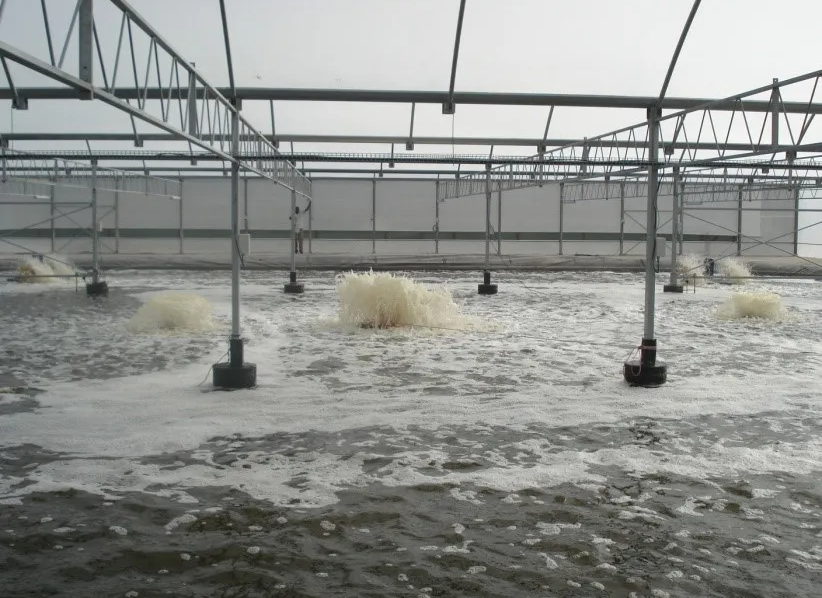 Plastic greenhouses to cover the shrimps ponds
The use of greenhouses covered with clear plastic film allows better control of environmental parameters. Indeed, the intensification of shrimps production (animal density) has created new challenges… In fact, the possibility of speeding up the growing cycle by controlling climatic factors (especially in temperate regions) is part of the solution.

Another challenge is to make the shrimp production more sustainable controling more the envrionment and the water system (filtration, oxygenation, automation…). Climate management in addition to increasing yields also has a positive impact on the quality of shrimp.
By keeping a constant temperature, it will help reducing the threat of diseases such as White Spot Syndrom Virus (WSSV). The plastic greenhouse roofing also exclude the negative effects of heavy rainfall, which can also impact pond water quality (pH, acid rain, pollution…). Use of UV-open plastic can be used to control some micro-organism population.
Conclusion
The aquaculture industry is growing quickly worlwide, the shrimps symbolize this growth. However, intensification of the practises have created issues. In addition, recent human and environmental scandals have tarnished this industry.
Modern greenhouses with quality galvanized steel structure integrating climate / water control technologies is an interesting solution to make this industry more efficient and sustainable.
Source:

Li, S., et al., Thermal modeling of greenhouse aquaculture raceway systems. Aquacult. Eng. (2009), doi:10.1016/j.aquaeng.2009.04.002

NaturalShrimp expands RAS shrimp farm in Texas : https://www.hatcheryinternational.com/naturalshrimp-expands-ras-shrimp-farm-in-texas/
New Technology for Shrimp Farming in Panama: https://thefishsite.com/articles/new-technology-for-shrimp-farming-in-panama
https://www.intrafish.com/aquaculture/cp-foods-backed-shrimp-farmer-invests-heavily-into-new-greenhouse-concept/2-1-653015
https://www.intrafish.com/shrimp/brazil-shrimp-production-could-hit-120-000-mt-this-year/2-1-740991