This post is also available in:

English

Français (French)
Introduction
The first objective of a climate battery greenhouse system is to heat the growing area without using expensive fossil fuels (or too much electricity). Indeed, more than ever the dependence on fossil fuels and their increasing cost pose problems for small and medium-sized greenhouse vegetable producers. Heating expenses in Northern countries represent more than 30% of operational costs as a reminder.
We will see in this article an example of a low-tech geothermal system that can drastically reduce your heating costs.
How it works ?
One of the principles of this system is to exploit the synergy between the greenhouse and the geothermal battery. Indeed, the greenhouse effect will contribute to "produce heat" from solar radiation.
The geothermal system will work as a battery to recharge the underground system with heat in winter and cold in summer.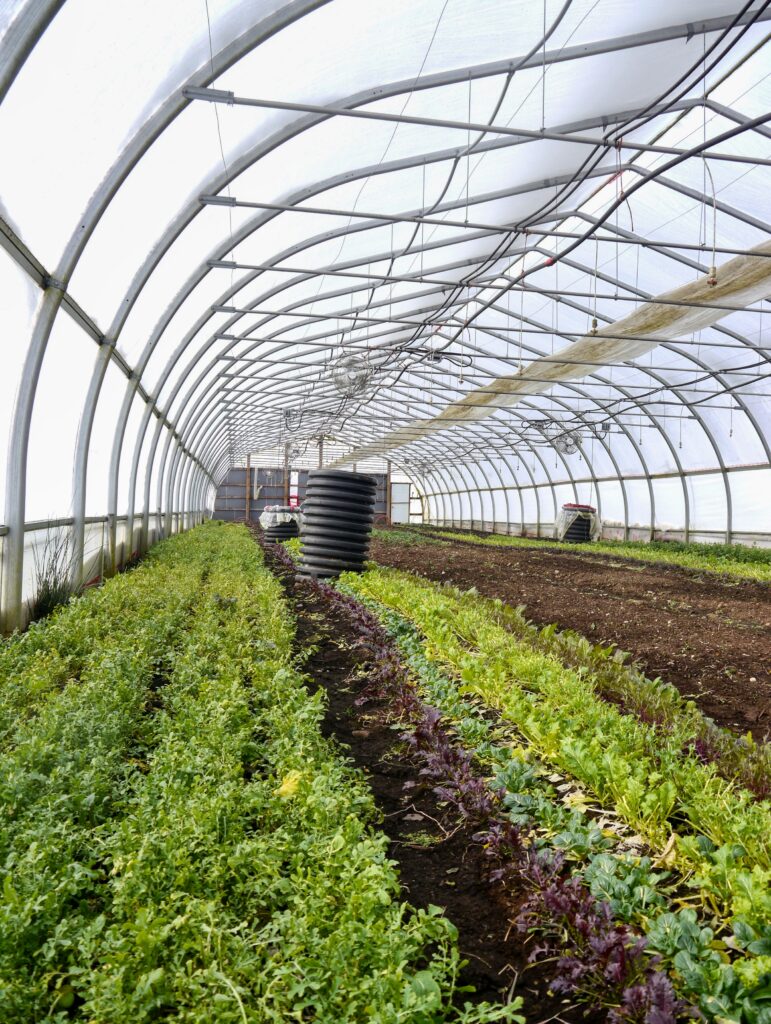 Above an Ovaltech III individual greenhouse (manufactured by Harnois) at Abundant Acres in Nova-Scotia. The farm is famous in the province to grow the best quality leafy greens and vegetables.
The greenhouse functions (equipment) and geothermal system (fans) can be controlled by a climate computer in order to collect data and manage efficiently the climate in your greenhouse.
Every project is different due to the local environment and underground soil, one of the main challenges is to collect data and improve every year the heat collecting and release of your climate battery.
Reference projects in the Canadian Maritimes
During a visit in the Atlantic Canadian provinces, I had the chance to visit a very interesting project currently using a climate battery to grow leafy greens during the winter
.
Abundant Acres
The underground system is 8′ feet below the greenhouse growing area. The geothermal system was built by Maritimes Greenhouses Connection a local company specialized building Ovaltech freestanding greenhouse and Atmos geothermal system: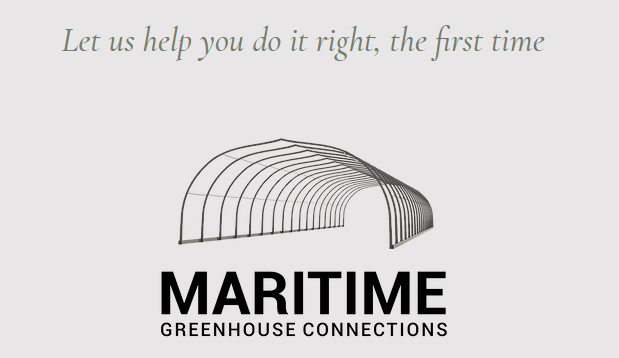 David Greenberg of Abundant Acres is one of the expert grower in the Maritimes using the geothermal system without any propane consumption during the winter (see below).
Greenhouse Specs
Size: Ovaltech III 35' x 145', ground tube + X rods foundations
Frame: Gothic freestanding, 16Ga arches, engineered structure by Harnois (Canadian manufacturer)
Covering: Double layer IR/AC 7.2-mil poly, polycarbonate end walls and knee walls
Ventilation: ~7' roll-up sides, 8'Wx8'H sliding doors on each end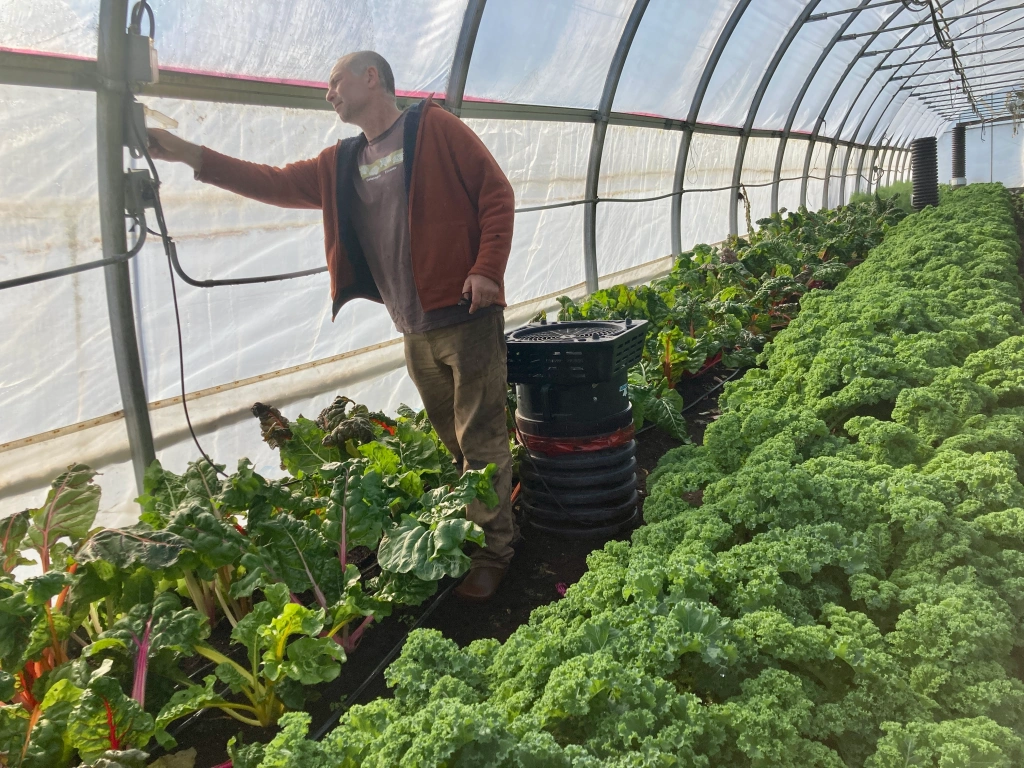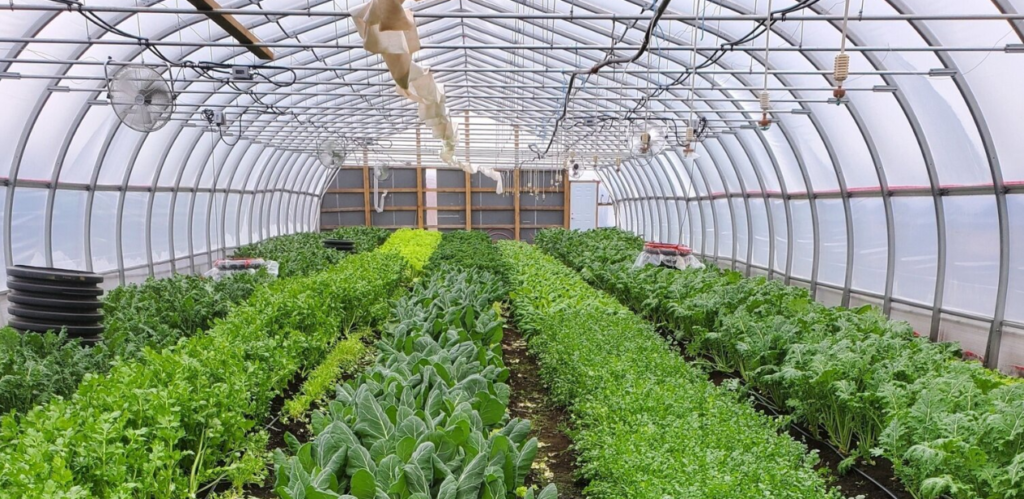 Institutional projects
Geothermal greenhouses are also ideal for institutional project for schools and remote communities to grow fresh food all year round, another example below:
More information below about another successful geothermal greenhouse at Port Elgin :
https://www.cbc.ca/news/canada/new-brunswick/port-elgin-students-greenhouse-1.6281569
https://www.cbc.ca/i/caffeine/syndicate/?mediaId=1983136323639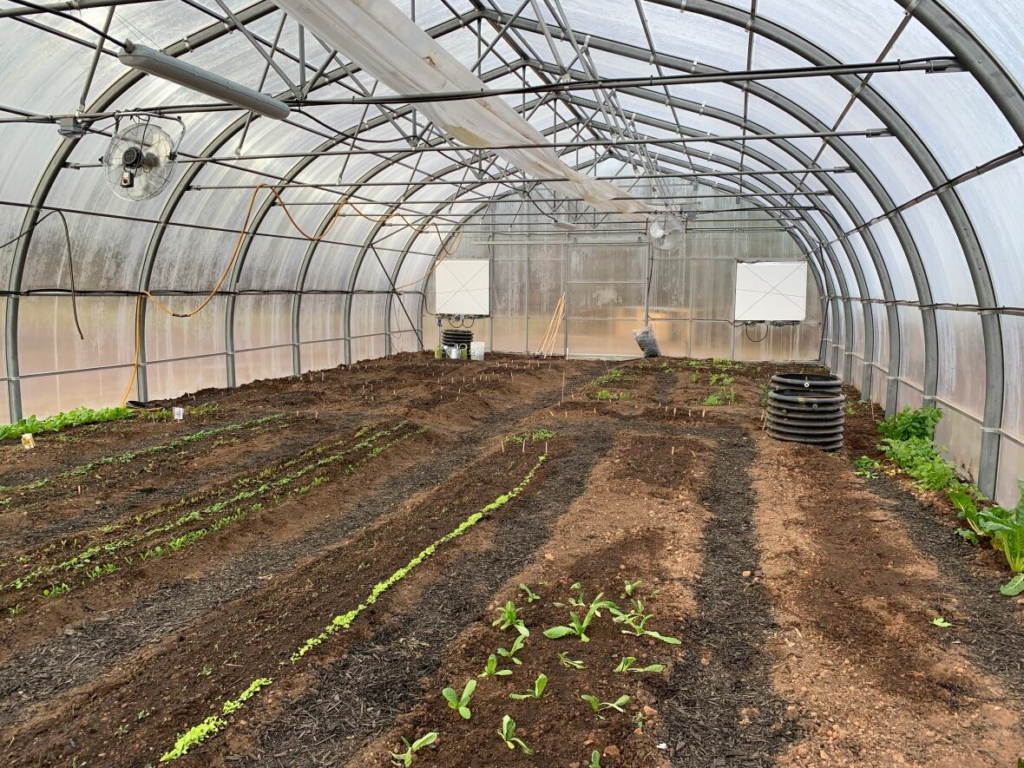 Conclusion
We have seen in this article how works a low tech affordable climate battery to produce veggies for commercial growers and institutional projects.
However, the technology is still evolving to be able to optimise the battery charge releasing free heat during all the winter. Every case is different, it will require an adaptation period to measure how to use the maximum potential of your future climate battery.
Moreover, the humidity management in the greenhouse will also be important, keeping an eye on the surface area exchanged with the outside (air renewal rate) to drain excess humidity and heat in summer.
To conclude, if you are looking to learn about it do not hesitate to contact the experts!
Below a picture with David Wolpin of Wolpin Enterprises a local growing supplies company and agriculture expert :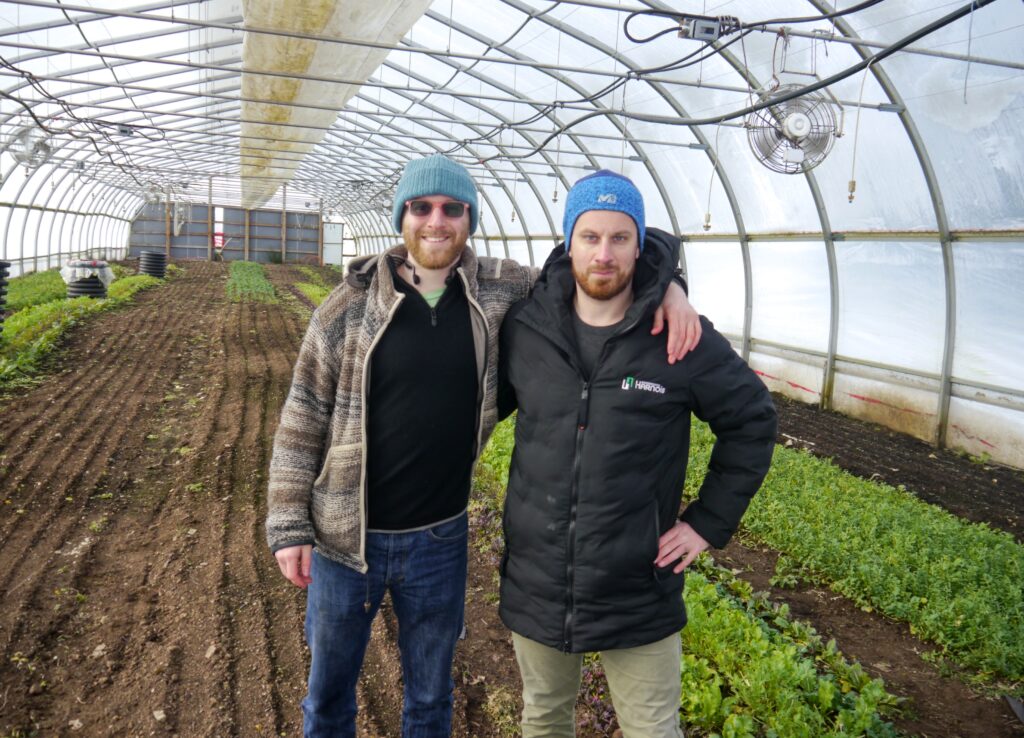 Very cold during the Canadian winter… but no worries in the climate battery greenhouse !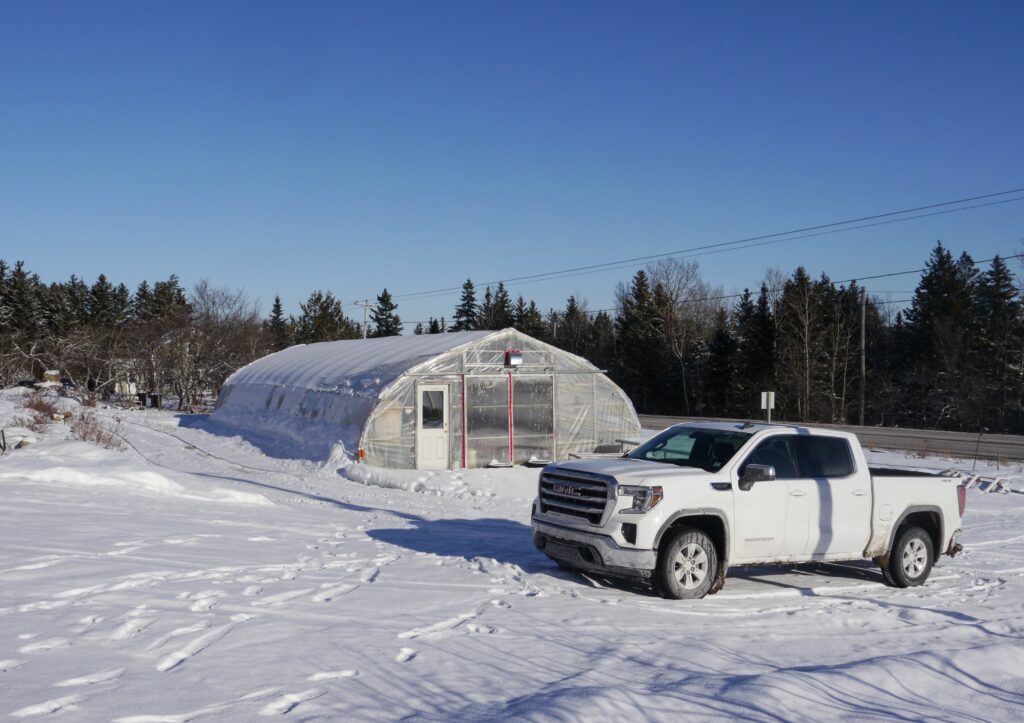 Photos : personal photos Corenthin Chassouant and Abundant Acres website
Sources:
Climate Battery Greenhouse Version 1aka The Gray House (Threefold Farm):
https://threefold.farm/climate-battery-greenhouse
Geothermal Heat for Greenhouses (University of Massachusetts Amherst):
https://ag.umass.edu/greenhouse-floriculture/fact-sheets/geothermal-heat-for-greenhouses
Greenhouse construction – climate battery:
https://www.maritimegreenhouseconnections.com/building