This post is also available in:

English

Español (Spanish)
Introduction
Nowadays, more and more professionals are using modern multipsan greenhouses covered with plastic (PE) to dry raw material. The new generation of multispan greenhouses offer a large volume and the possibility to control the climate (passive/active) inside in order to have optimal drying conditions. For example, it is possible to dry coconut fibers, coffee beans or cocoa, food products : casava (manioc), tomato and biomass from co-products' transformation…
Drying greenhouse concept
The concept of using multispan greenhouse to dry raw material (biomass) can be resumed in 7 major points:
Use the greenhouse effect to increase the inside temperature


Ventilate the drying area (passive) using the greenhouse roof (vents) and lateral roll-up systems


Ventilate the drying area (active) using circulation fans (blowers) and/or extractors


Protect the dry product under the plastic greenhouse (= shelter function) all year round


Use the large space (witdh/height) inside the new generation multispan greenhouse to store more product and circulate inside with machines (better logistic)


Cover the greenhouse with the best film or semi-rigid material in order to have an efficient drying system according to the product to be dried


Add greenhouse equipment to reduce the humidity inside the drying greenhouse if the ventilation is not enough to control the RH %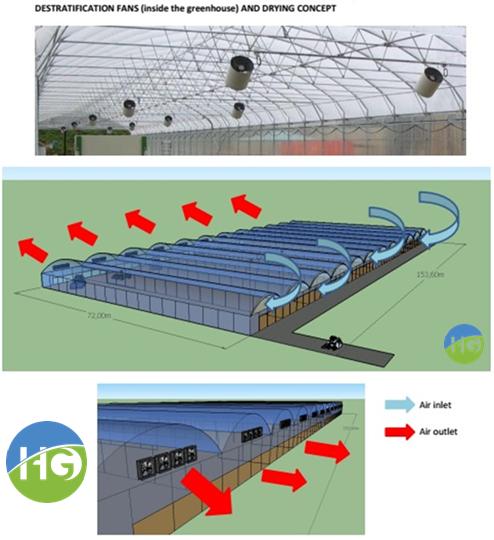 Conclusion
The selection of the right greenhouse design and drying surface (block size) are important factors to consider. Moreover, the project orientation is also a key point (sunrise/sunset, prevailing wind direction…). For example, in some regions of the world it can be more efficient and energy effective to limit the greehouse block surface adding ventilation corridor between spans…
What is more, an analysis of the raw material (biomass) is mandatory before implementing your drying greenhouse project, Indeed, you need to discuss with a specialist on the drying target (RH %) in the final product in order to determine the technology level and strategy using multipspan greenhouse to reach it.

New articles will introduce specific cases of mutlispan greenhouse used to dry particular biomass product.