This post is also available in:

English

Français (French)
Introduction
Wasabi (Wasabia japonica) is a perennial plant of the Brassicaceae family. The wasabi is native to Japan. The stem is grated to make a piquant paste.
The wasabi is widely consumed in Japan and in the rest of the world, especially as a condiment with fresh dishes such as sushi or sashimi. However, it is important to distinguish between the "real" wasabi and the "mixed wasabi copy" made of American or western horseradish, mustard, soy sauce, and green food coloring.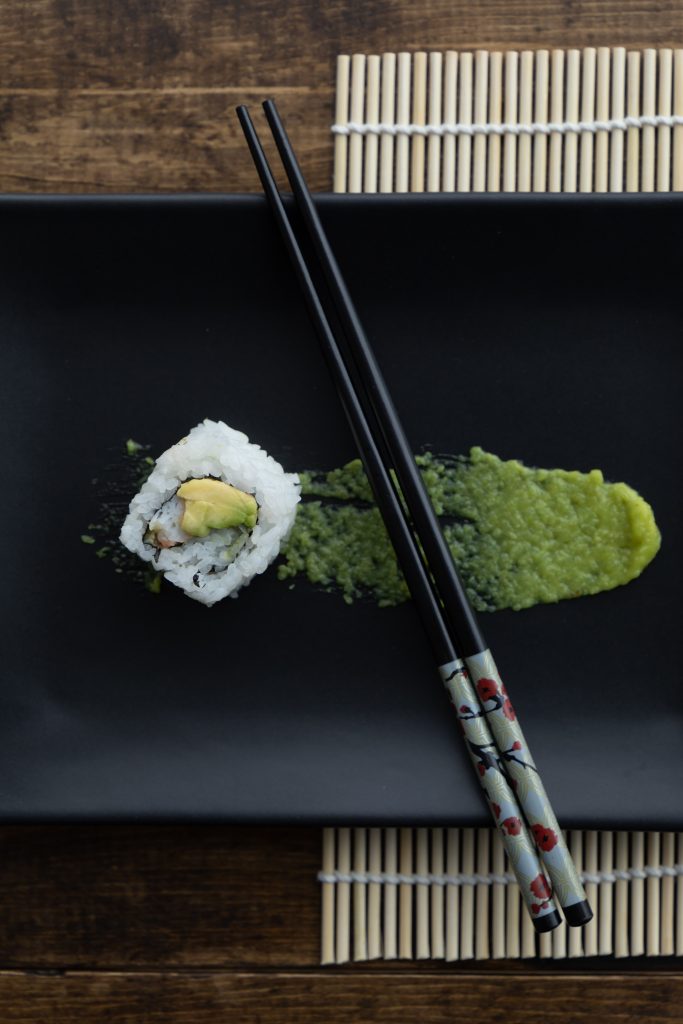 Regarding the cost of 1kg of fresh wasabi, in 2021 the value vary between 180 to 250$ per kg depending the quality. It is a very lucrative crop to produce.
But the wasabi is a very exigent plant to grow, moreover, it has to be harvested by hand. For these reasons, its rarity justifies its high price.
Growing wasabi in high-tunnels
Growing Wasabia japonica requires a lot of attention. Indeed, it is a semi-aquatic plant which needs cool growing conditions. The wasabi plant is very sensitive to the heat.
In fact, Wasabia japonica grows best in a wet, moderate warm climate between 45 °F (7 °C) and 70 °F (21 °C). In North-America parts of the Pacific Northwest have ideal growing conditions for wasabi as we can see in the video below.
Malcolm Island Wasabi is growing wasabi in freestanding Ovaltech greenhouses:
The concept requires a wide high-tunnel greenhouse and the ability to increase the RH % humidity while using Horizontal Air Flow (HAF) fans to have enough air circulation inside the growing area. What is more, in order to protect the plant from the direct sun light a shading system must be added. Controlling the maximum temperatures is necessary to avoid leaf wilting and diseases.
The wasabi can grow directly in the soil or in a growing media but it is important to have enough drainage and aeration (porosity) capacity to avoid water stagnation. Fungal disease and stem rots can cause significant damage.
In fact, the Wasabia japonica are commonly grown under shade trees In Japan. The roots of the plants are partly immersed in the streams flowing waters. The main principle of the cultivation of wasabi under greenhouses is to re-create those conditions using climate control technologies.
A plant with multiple applications
The wasabi has of course culinary uses more particularly in the Japanese cuisine. Furthermore, it can be use for medicine and biomedical applications as well in some other industries.
According Dr. Hideki Masuda the wasabi has anti-bacterial proprieties. Indeed, it contains a molecule called isothiocyanate effective in inhibiting Streptococcus mutans cell grow. Furthermore, some researchers said also that it might have anti-cancer properties more particularly on the stomach.
The list of properties of wasabi is constantly evolving as more and more research is done on the subject.
Conclusion
The cultivation of wasabi in ground-to-ground greenhouses is challenging and today not widespread. The semi-aquatic plant (rhizome) is now trading at more than 150 dollars per kilogram which offers an interesting potential and challenge to experienced growers…
Sources:

Malcolm Island wasabi, an unusual crop for the Canadian climate | We Are The Best
https://www.youtube.com/watch?v=jBAf_tziUsw&ab_channel=CBC
Medical Uses of Wasabia japonica:
https://wasabi.org/articles/medical-uses-of-wasabia-japonica/
Wasabi does more than simply add heat to sushi (McGill university):
https://www.mcgill.ca/oss/article/food-you-asked/does-wasabi-have-any-health-benefit#:~:text=Wasabi%20has%20antimicrobial%20properties%20which,coli%20and%20Staphylococcus%20aureus.
Wasabi Growing under cover:
https://wasabi.org/indoor-wasabi-growing/