This post is also available in:

English

Français (French)
Introduction
In general, three crops (vegetables / fruits) are the most represented in North America through all provinces and States. Indeed, tomatoes, peppers and cucumbers are frequently found in Canadian and American greenhouses.
However, since the 2000s the competition from companies based in Mexico with much lower operational costs has put a strong pressure on the North American vegetable growers.
Lately, high-value alternative crops (mostly pesticides free production – hydroponic systems) are growing to meet the demands of local markets. Indeed, the current crisis with the coronavirus (Covid-19) is catalyzing this trend. The notion of food autonomy is at the center of the discussions. In fact, the vegetable production industry is under the spotlight and the public authorities are supporting the financing of new projects.
In this article, we will review the crops concerned by these trends.
– Leafy greens vegetables (lettuce, kale…)
NFT system
Lettuce has a short growing cycle (4-6 weeks) from seeding to harvest. The plants can be grown using Nutrient Film Technique (NFT) using fix or mobile gullie systems.
The article below (available on the blog) will give to you more details about NFT system for leafy greens: https://horti-generation.com/hydroponic-introduction-lettuce-on-nft-system-under-greenhouses/
DWF or DFT system
Deep Flow Technique (DFT) is also an interesting option to produce high yield and quality leafy greens on a larger surface from 1-2ha and more with a modern system :
Lettuce shelf life is in average 5 to 8 days depending post-harvest technique (atmosphere control, lettuce washing…), crops variety, farm management and packaging. A large number of growers want to be located close to their market providing fresh produce… Customers are also looking for more traceability and transparancy.
–

Edible aromatic plants (herbs)
More and more greenhouse growers close to big cities are turning to cultivate herbs like basil (Ocimum basilicum), coriander (Coriandrum sativum), chervil (Anthriscus cerefolium), dill (Anethum graveolens), lemon balm (Melissa officinalis), sweet marjoram (Origanum majorana), oregano (Origanum vulgare), parsley (Petroselinum crispum), sage (Salvia officinalis), thyme (Thymus vulgaris)…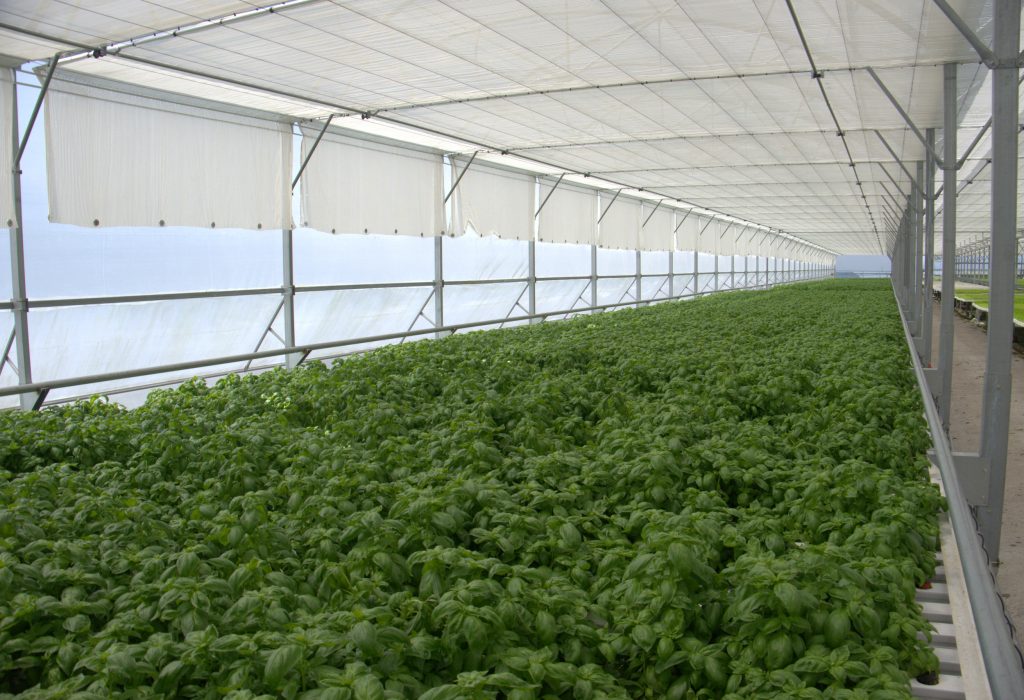 This cultivation example (above picture) shows the advantages of the hydroponic systems prodiving consistency, rapid plant growth and clean product. There is an ability to provide specific cultural and nutritional requirements. Moreover, it is functional during the winter to produce herbs when market prices are highest.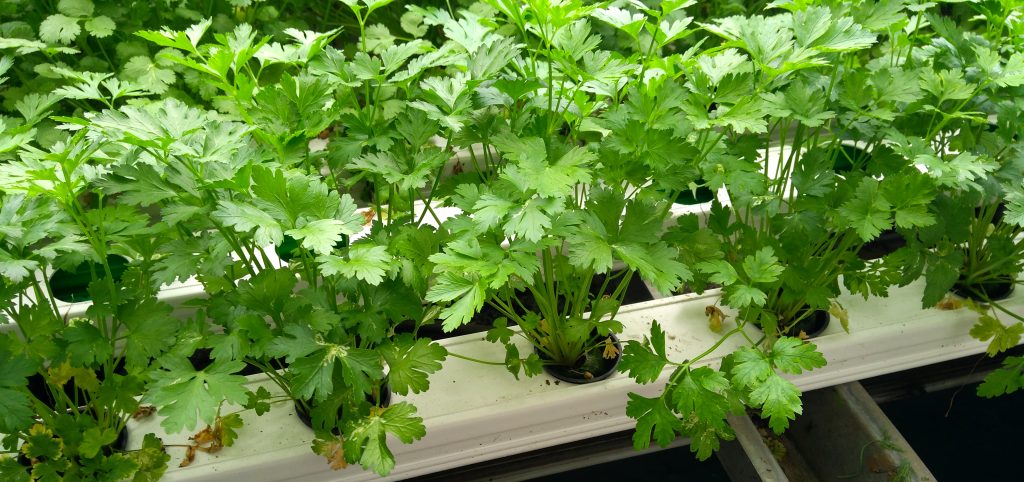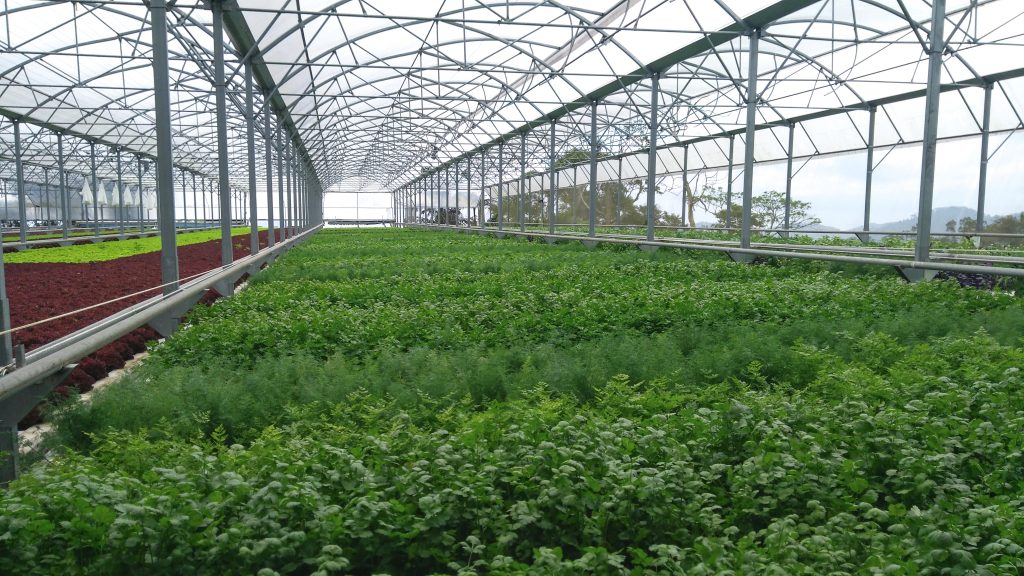 – Strawberry
In North-America and generally in most parts of the world, strawberry is a high-value fruit that can be grown in greenhouses.
In fact, cultivating strawberry (low crop culture) has many advantages to control the crop height using growing gutters (spacing c/c of 1,14 m or 45"). The objective is to increase the crop density keeping good yields and quality.
The greenhouse will protect the crops from the freeze and help the farm manager to reduce the labor costs. Selecting higher greenhouse (5m or 16′ under gutter) will provide a buffer area to help the grower controlling the temperature and humidity changes more particularly during the summer and winter (off season). What is more, soilless substrate will eliminate the risk of soil born diseases.
However, some strawberry varieties used in the greenhouse are more vulnerable to pests and diseases such as spider mites and powdery mildew…
Integrated Pest Management (IPM) integrating beneficial insects (biological control) + efficient greenhouse ventilation to drain out the relative humidity (RH) with anti-consendation measures + sulfur applications are parts of the solutions to control these issues.
– Microgreens, sprouts, baby-greens
The latest trend in the horticulture and greenhouse world (especially vertical farming) is microgreens / sprouts / baby-greens cultivation. They are young salads, herbs or beans harvested at the first true leaf stage.
Sprouts, microgreens, and baby greens are simply those greens harvested and consumed in an early stage. Sprouts are germinated seeds.
Exemple of popular microgreens known for their nutritives and aromatic proprieties:
– Amaranth
– Arugula
– Basil
– Pea shoots
– Radish
– Broccoli
Production in small individual trays can be time-consuming especially the harvest stage. However, other system and substrate can be used to make it more efficient (use of growing space – quick harvest) like the burlap growing medium or the jute pads…
Chefs and in particular gastronomic restaurants are fond of these young fresh shoots with strong aromas to garnish their dishes.