This post is also available in:

English

Français (French)
The positive pressure ventilation concept is to draw fresh air from outside to inside the greenhouse.
A positive pressure ventilation is achieving maximum insect exclusion and temperature uniformity inside the greenhouse. It maximises the performance of the crops and help to reduce the usage of chemicals. The air entrance has to be filtered (with insect-proof net for exemple) before pressurizing the whole greenhouse. The pressure must be high enough to exceed the flying speed of insects.
In fact, a positive pressure ventilation system is usually more economical for an individual greenhouse. Indeed, it requires a more high-tech system for a gutter connected greenhouses (larger surface, volume…) which is therefore much more expensive…
This active ventilation strategy can be used in the Northern Hemisphere during the beginning and end of the season to recycle the air in the greenhouse without causing thermal shock. In fact, it is not recommended to ventilate with the sides roll-up because cold temperature can have a negative effect on the crops. In addition, before entering the greenhouse through a poly tube (suspended or on the ground), the outside air can be mixed with the warm air to increase the temperature of the fresh air that will then be distributed.
Adding a positive pressure fan linked to a perforated poly tube is widely used for mid-season ventilation in Canada more particularly in Quebec for example. The forced injection of fresh air will allow to control the humidity, the temperature, the CO2%… inside an individual greenhouse.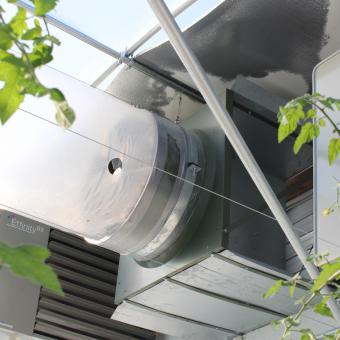 To conclude, an adiabatic cooling system can be combined with positive pressure ventilation. For example, the air is pushed through a cooling unit which will then distribute the cool air into the greenhouse. This can also work for hot air diffusion, which offers many possibilities…!
Source:
D. R. Mears and al., 2020. A positive pressure ventilation system with insect screening for tropical and subtropical greenhouse facilities. Acta horticulturae 578(578):125-132