This post is also available in:

English

Français (French)
Introduction
Globalization has weakened the ability of countries to ensure the supply of primary commodities and food is one of them. In fact, a very large part of the vegetables and fruits are produced further south in countries such as Mexico, Vietnam, Turkey, India or Egypt. The world's largest fresh vegetable producer is now China (source = statistica.com).
Since the Covid-19 pandemic, issues around food self-sufficiency have been a priority for governments and communities. We will see in this article examples of Canadian projects with the First Nations.
Indeed, many aid programs have appeared with the objective of financing projects to make territories more self-sufficient in order to produce their own food. Trendy expressions that come up are local production, consumption of seasonal vegetables, transparency and traceability (#foodsafety).
To do this, the actors of these programs encourage investment in greenhouses to produce vegetables all year round, especially in North America.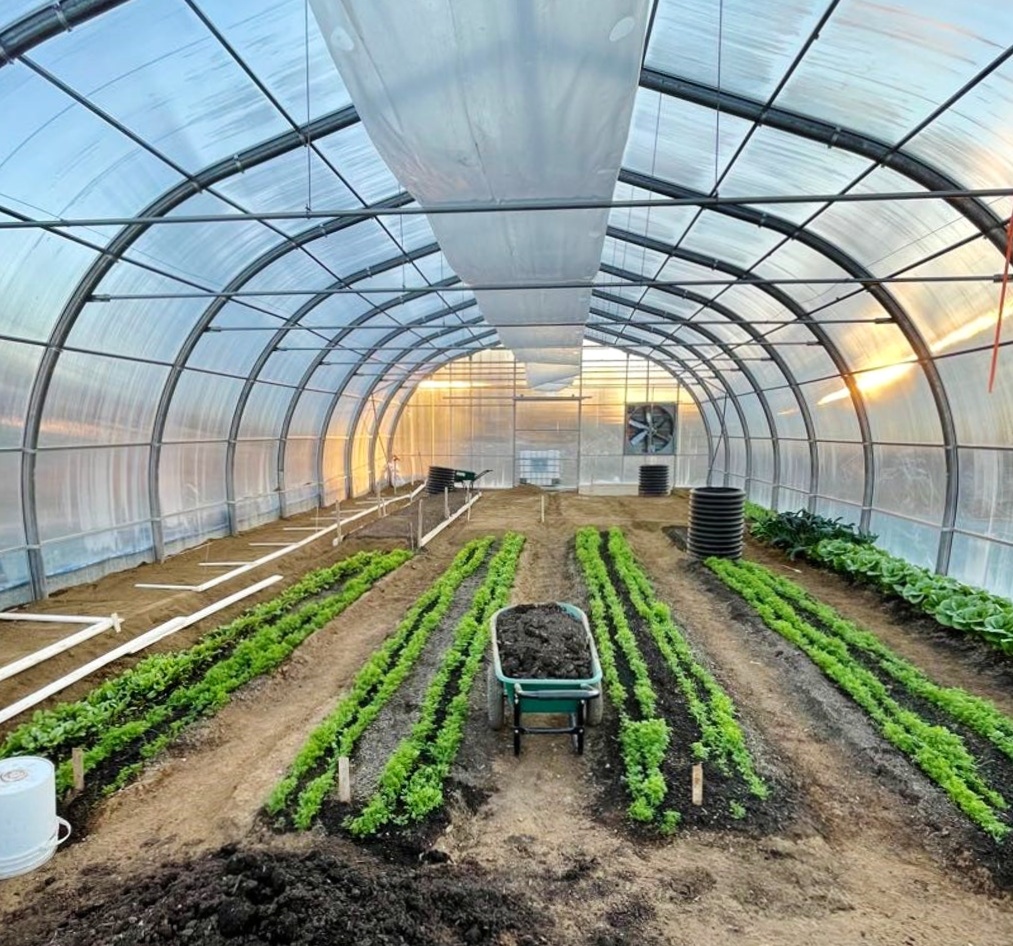 How community greenhouses can bring fresh food ?
The greenhouse is a tool that will allow producers to protect their production and extend the growing season, especially in northern regions with cold winters.
Moreover, depending on the type of greenhouse used and the equipment integrated with the structure, it will be possible to cultivate all year round.

The first thing to evaluate is the cultivation surface needed to produce the desired amount of vegetables for the community. For example, a well managed 30′ x 100′ individual greenhouse (freestanding) can produce enough for a dozen families.
Another aspect to consider will be the type of crops and varieties grown. Indeed, the association of certain plants and the cultivation techniques will affect the ventilation in the greenhouse, the penetration of light and the management of humidity among others.
In some cases, such as for trellised crops (tomato, bell pepper, cucumber, chili pepper…), it will be better to select a wider and higher greenhouse in order to have more volume to optimize production and harvesting.
In fact, the recommended row spacing for tomato crops is 5'10" (or 1,8m) center to center c/c while it is more like 5'2″ (or 1,6m) c/c for cucumbers or bell peppers. In addition, leafy vegetables much lower in height can be spread on the sides of the greenhouse in the ground or in containers.
Wasabi cultivation
Other communities have also chosen to specialize in one type of crop and then sell their production and make a profit to buy their food. An example can be the production of Wasabia japonica under greenhouses in Western Canada (see below).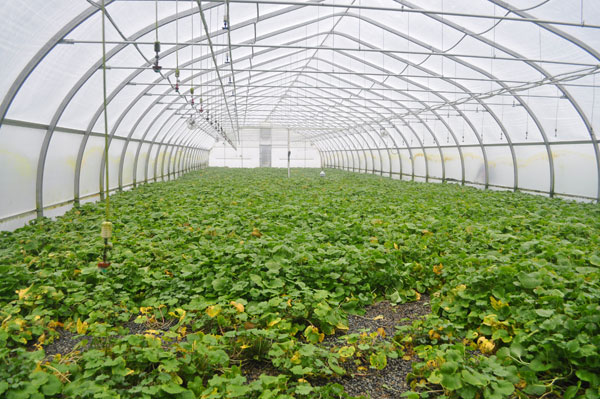 A real solution for remote areas
During the pandemic, the high price of healthy food and vegetables is affecting many people more particularly the ones living in remote regions.
Investing in a greenhouse is a way for these communities to produce fresh produce without being dependent on transportation and multiple price increases. Moreover, this also has an impact on the quality and nutritional value of the vegetables which will be much better.

The example of the three greenhouses of the Yunesit'in First Nations symbolizes its desire for food self-sufficiency to feed all the people of the community living in the region.
"We've seen food [prices] being increased due to inflation, due to demand, due to lack of supplies."

Tahirih Paul
The social dimension is also an important factor. Indeed, educating young people on how to produce their own food and making people responsible for practices such as organic farming is a good opportunity with this type of project.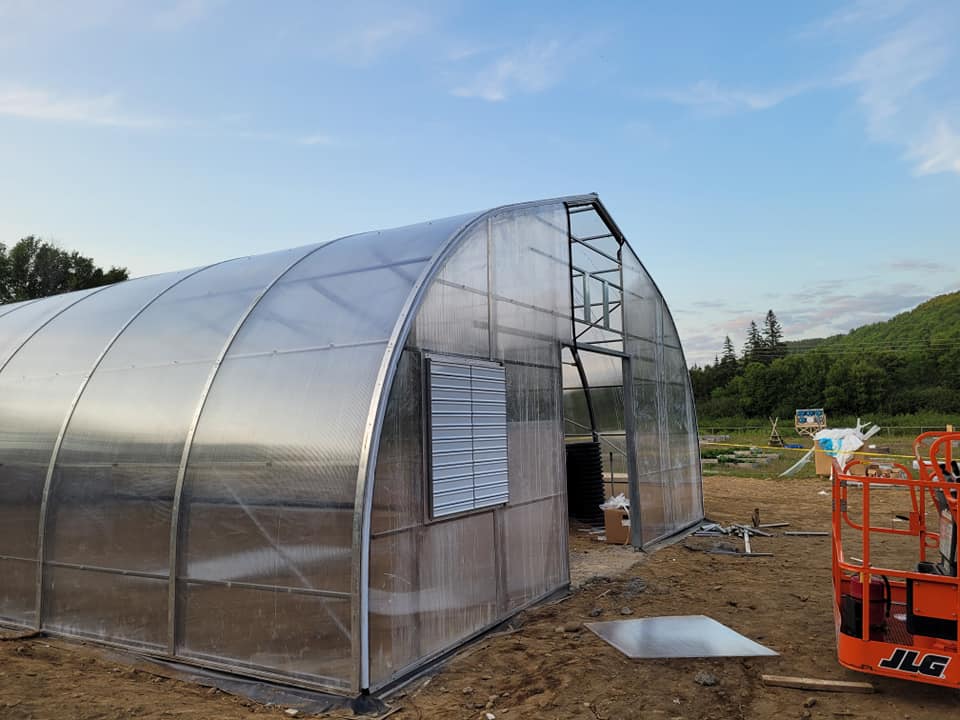 Conclusion
The world is changing and globalization is beginning to show its limits. The lack of transparency and traceability are obstacles for people who want to eat healthy.
Recently, the Covid-19 crisis has shown that the interdependence of countries was an obstacle more particularly for some remote communities.
Yes, a freetanding greenhouse, self-financed or paid for in part by an aid program, can be a good way to grow vegetables and move towards food autonomy. However, you must do a business plan calculating the growing surface that you need according to the amount of food you want to grow.
In your overall budget, it is necessary to think about the preparation of the land, the building permits, the greenhouse equipment costs, plant material and the various maintenance costs…
To conclude, it will be easier to start with a 30′ x 100′ greenhouse to begin with and then duplicate the structure over the years.
Sources:
Community greenhouse project brings fresh, affordable food to Cape Breton's Potlotek First Nation:
https://www.saltwire.com/cape-breton/news/local/community-greenhouse-project-brings-fresh-affordable-food-to-cape-breotns-potlotek-first-nation-100594166/
Potlotek one of first Atlantic Indigenous communities to launch garden initiative:
https://www.cbc.ca/news/canada/nova-scotia/potlotek-first-nation-community-garden-1.5844756
T'Sou-ke Going Green… Really Green:
https://www.tsoukenation.com/tsou-ke-going-green-really-green/
Yunesit'In government greenhouse activity:
http://www.carnotechenergy.com/projects/yunesitin-government-stone-nation-greenhouse/