This post is also available in:

English

Français (French)
Introduction
The use of high tunnels (covered with plastic film) is widespread especially in Europe and North-America for many target crops. It is an easy solution to set up and more economical than gutter connected greenhouse complexes.
Growers usually use the passive ventilation on the sides with manual or motorized mechanisms called sides roll-up. What is more, a roof opening can also be added. The mid-roof option is most often motorized with a rack and pinions system.
During the hot season, it is necessary to control the climate more particularly the temperature and humidity. To do this, the farm manager will do do everything in his power to maxime the air exchange rate. Indeed, it will passively decrease the inside temperature inside the growing area and drain out the excessive humidity.
Moreover, without natural ventilation it will not be possible to grow during the summer due to the greenhouse effect (lethal temperature).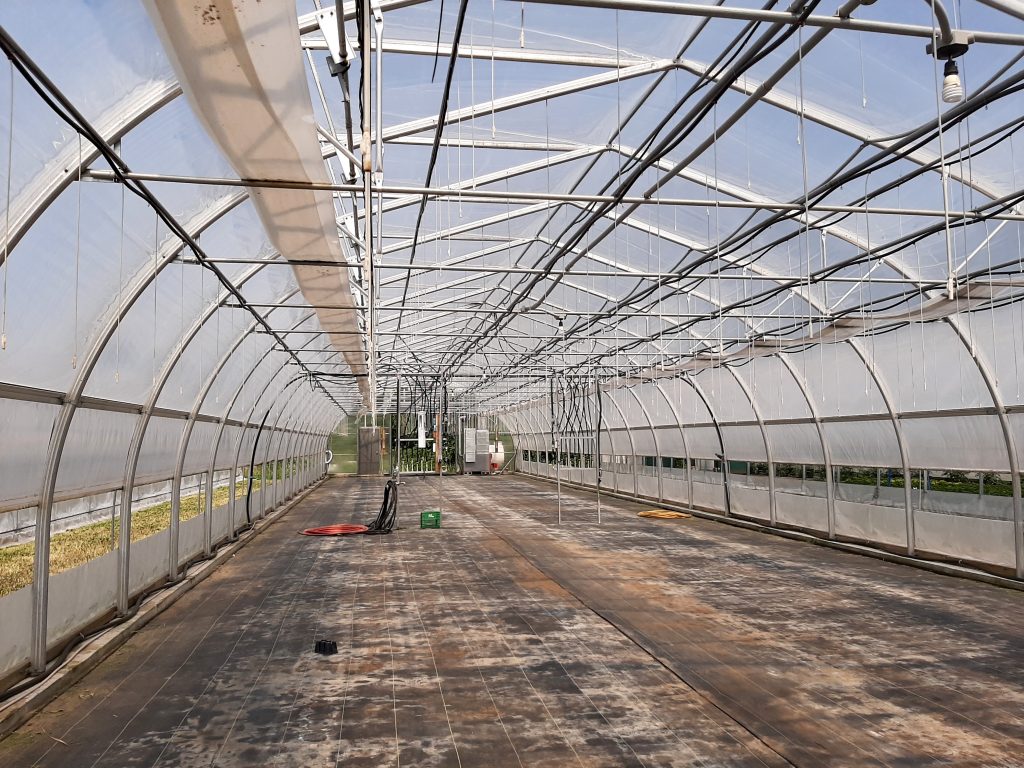 For crops such as berries (black or red raspberry) a high tunnel will allow the grower to extend his season. It offer an important economic opportunity for North-American farmers.
We will see in this article if the addition of a roof opening is always justified.
Always add a roof opening ?
A recent study in the United States of America has done fluid dynamic models to measure the impact of adding a roof opening to a high tunnel greenhouse.
Scientists have shown that there is a little benefit to add a roof vent in some cases. In fact, short crops such as leafy greens or herbs may not require the addition of a roof vent. This theory works when the ambient wind speeds average are at least 10 km/h (6.2 mph) at 10m (32′) height.
However, taller canopy crops such as raspberry or vine crops (tomato, pepper…) create a physical air restriction impacting the air exchange rate. A freestanding greenhouse only equipped with roll-up sides ventilation for taller crop can be problematic…
Adding a mid-roof will create a depression on top the greenhouse facilitating air exchange (renewal) and drainage of moisture and hot air. In fact, the hot and humid air being lighter, it will naturally go to the top of the greenhouse.
Conclusion
To conclude, if you are growing short crops natural ventilation using roll-ups and circulation fans (Horizontal Air Flow: HAF minimum 2 vol per hour air recycling) might be sufficient. Moreover, a positive pressure system (fan jet) can be added especially for the mid-season ventilation in order to reduce thermal shocks in the cultivation area.
On the other hand, it will be necessary to add a roof vent if you plan to grow taller crops to enhance the ventilation rate.
Note: This study was carried out a unique greenhouse and roof vent design simulating only a single row of plants. The conclusions remain theoretical and did not take in consideration all of the parameters (solar radiation, evapotranspiration…) observed in reality.
Source:
Lewus, D. & Both, A.J.. (2020). Using computational fluid dynamics (CFD) to improve high tunnel ventilation. Acta Horticulturae. 33-40. 10.17660/ActaHortic.2020.1296.5.