This post is also available in:

English

Français (French)

Español (Spanish)
Introduction
The wild blueberry Vaccinium myrtillus grows on very small shrubs, about 50 cm high, in the light undergrowth with acidic soil. The plant is native to North America.

The shrub can reach 2.50 m in height and gives fruits bigger than wild blueberries. Blueberry bushes need specific growing conditions to grow. In fact, excessive wind, dryness and alkalinity in the soil can damage and weaken the crop.

Cultivating blueberry bushes under plastic greenhouse (tunnel type) with climate control technology and a proper soil or substrate promotes higher yield and quality.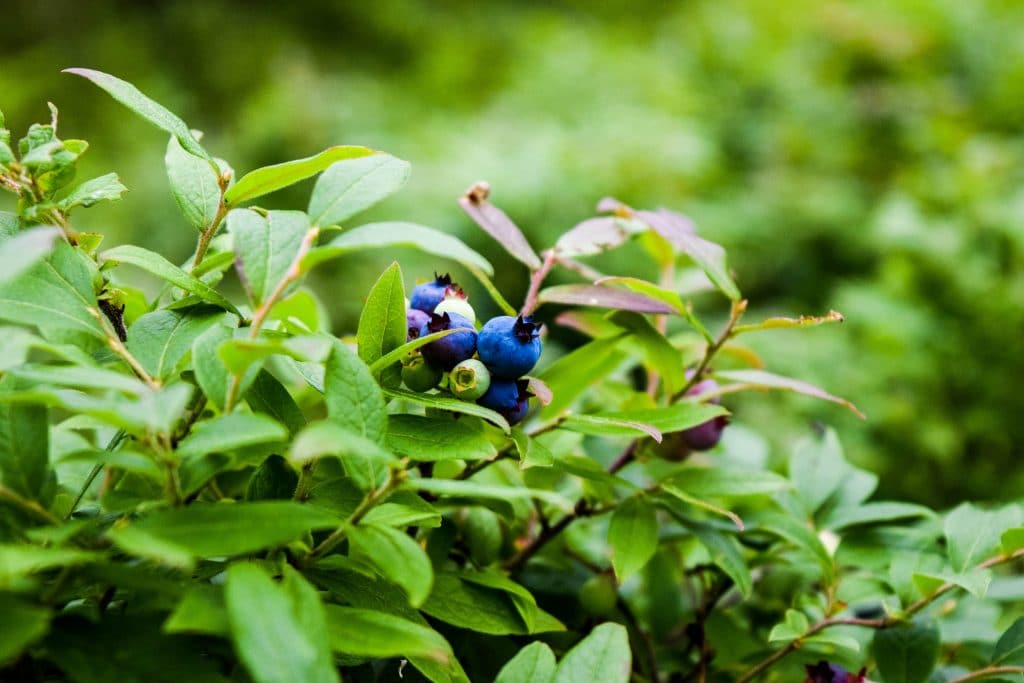 Blueberries growing conditions
The blueberry shrub has strict exigences in term of physico-chemical soil conditions. Indeed, blueberries grow well in light and very acid soils. The adequate range of acidity are found at a pH of around 4,5 – 4,8. It is also possible to use soil less substrates made of 30 percent coir (shredded coconut husks), 40 percent peat moss, 10 percent mature compost and 20 percent perlite by volume.

The plant must have a continuous access to the water. In reality, blueberries shrub does not tolerate a low humidity. However, it has to be moderate: a high humidity may also be negative to the plant growth. The soil or substrate should have a low density with good drainage capacity. Mulching can be done to keep the humidity around the tree avoiding water loss also to limit the weeds expansion.

Note: The variety choose will condition the crop management more particularly the plant density and the harvesting period. Cultivar selection must be based on yield, fruit quality and shelf-life, disease resistance, winter resistance, early maturation…
Advantages of growing blueberries under plastic greenhouse
Single or multi tunnel (low/middle tech) is the most appropriate type of plastic greenhouse to grow blueberries. The budget will be more reasonable and the growing conditions can be controlled for this crop using basic equipment. Unheated greenhouses is preferred in order to control the costs and reduce the environmental impact.

Hydroponic cultivation of blueberries has the advantage to eliminate the soil as a limiting factor. 25L plastic pot can be used or 15L then repotting in 25l. Production can be optimized for areas with better climate and water availability.

Moreover, high tunnel offers more volume and flexibility to add equipment such as circulation fans, hot air heating system, shading/termal screens…

Below, a synthetic summary of the benefits of growing shrubby blueberries in greenhouses:
Use of greenhouse will protect the crops from the rainfall, frost protection ;
Implementation of an efficient ferti-irrigation strategy with systemic watering (drips) – usually 2 drippers per pot of 25L ;
Weed management using proper ground cover (white/black) ;
Fruits protection against birds and others animals ;
Crops protection using specific IP net against aphids, mealybugs, caterpillars… ;
Possible to use trellising to support the shrubs ;
Lower investment cost to build low-tech tunnel ;
Sources:
How to Grow Blueberry Bushes in a Greenhouse ? https://www.ehow.com/how_6103824_grow-blueberry-bushes-greenhouse.html
Intensive berry production using greenhouses, substrates and hydroponics. Is this the way forward? https://www.nuffieldscholar.org/sites/default/files/reports/2014_AU_Nicola-Anne-Mann_Intensive-Berry-Production-Using-Greenhouses-Substrates-And-Hydroponics-Is-This-The-Way-Forward.pdf
La culture de la myrtille en Suisse: http://www.news.admin.ch/NSBSubscriber/message/attachments/36679.pdf (French)