This post is also available in:

English

Français (French)

Español (Spanish)
Introduction
The Nutrient Film Technique (NFT) is becoming more and more popular around the world to grow green leafy such as lettuce, herbs (basils, mint, coriander…)… The NFT principle is a constant flow of nutrient liquid solution (ard 2mm).
Indeed, the nutrient stream allows a good oxygenation and an optimal nutrition for the plants. Each seed is placed in a substrate cube (rockwool for example), which is placed in a basket open enough to let the future roots.
The objective of an efficient NFT system is to have a high plant density during every phase of the growing process which means a minimal labour requirement. Moreover, less water and fertilizers losses (recirculation system).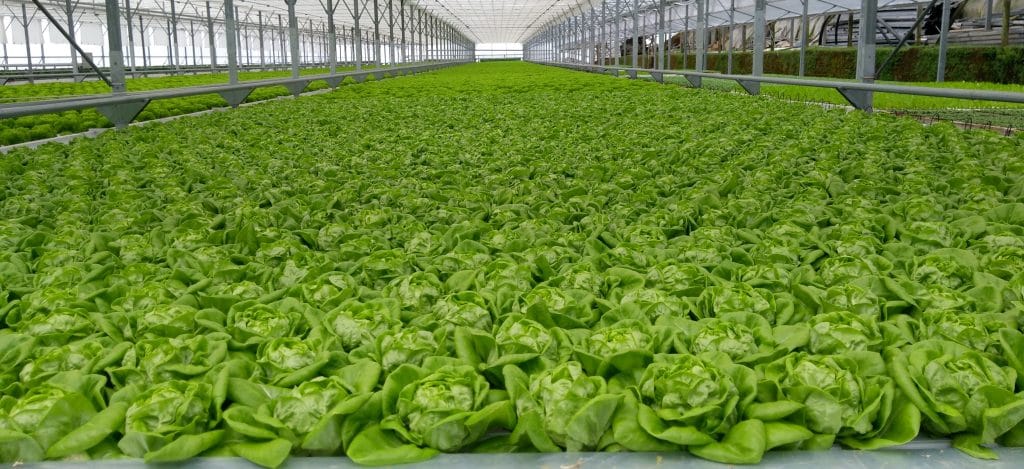 Climate and crops
A proper climate and farm management make the NFT the most performant hydroponic growing system for lettuce and herbs (high yied and quality). Indeed, it is possible to reach a crop density of 41 lettuces per gully equals to around 30 plants per square meter on Mobile Gullies System (MGS).
MGS system example below:
POTENTIAL CROPS : Targeted crops yields and growing conditions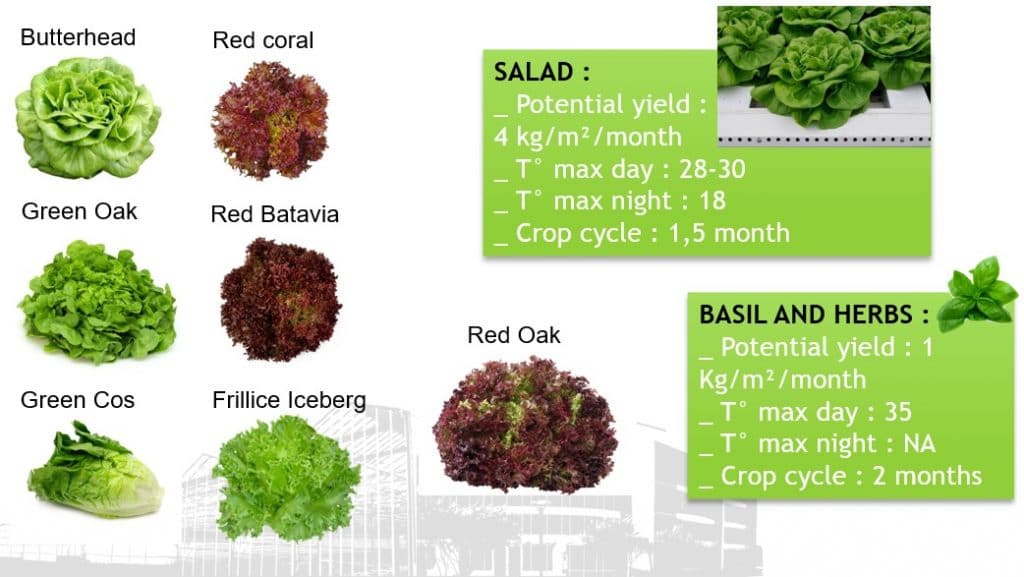 The control of the climate (temperature, hygrometry, light…) inside the greenhouse is an important point. A modern greenhouse with equipment such as motorized vents (passive ventilation), circulation fans (active ventilation), automated shading screens, fogging, LED system… is essential to provide ideal crop conditions for plants.

The ferti-irrigation system and technology used is also very important to monitor and control the water temperature, pH, electroconductivity (EC). This part will be detailed on a separate article.
Advantages
The NFT system has many advantages :

_ Height of the growing system is not too high making it easier for the opetational part (human height) ;

_ Fast cleaning / disinfection of the system made of gullies, pipes, water collectors… ;

_ High density of production (40-70kg/m² per year), ensures also a high quality and a supply security : less risk of worms, sand or manure contamination ;

_ No soil born disease (nematodes, rhizoctonia…) ;

_ Low volumes of nutrient solution needed to carry out a crop (reincirculation system) ;

_ Easy to set-up and produce quickly ;

_ Possible to combine it with a cooling or heating system (depending of the geographic location) to target a specific temperature at the roots level ;
Disadvantages
There are also disadvantages :

_ Requires significant ferti-irrigation system vigilance in case of pump failure for example ;

_ Permanent monitoring of water quality, temperature, oxygenation… ;

_ The thermal inertia is low, heating or cooling of the nutrient solution are expected more particularly on small and medium-sized NFT units. Attention: sudden changes in temperature of the nutrient solution are devastating ;

_ Requires more financial investment (chiller : colling, greenhouse equipment) mostly for southern or tropical wam temperature countries ;
"Installation of a fixed gullies NFT system is relatively cost-effective compared to a Mobile Gullies System or Floating System (DFT) "

@corenthin
Only few players in the world cna design and provide lean Mobile Gullies System (MGS) to grow lettuce and herbs especially in North-America (Canada and United States of America).
Do not hesitate to contact me by email if you have any question(s) about this technology for your future project : [email protected]