This post is also available in:

English

Français (French)

Español (Spanish)
Introduction
Saffron, Crocus sativus L., is a rare spice of great commercial value derived from the stigmas of the saffron flower. According to producers around the world, it takes 75,000 flowers or 225,000 sorted stigmas to produce 0.5 kg of saffron. Hence its current price is 30,000 (€/kg) or 16 500 (USD/lb).
The name "saffron" is derived from the Latin safranum, itself inspired by Arabic "zaferân". This plant is native to the eastern Mediterranean region.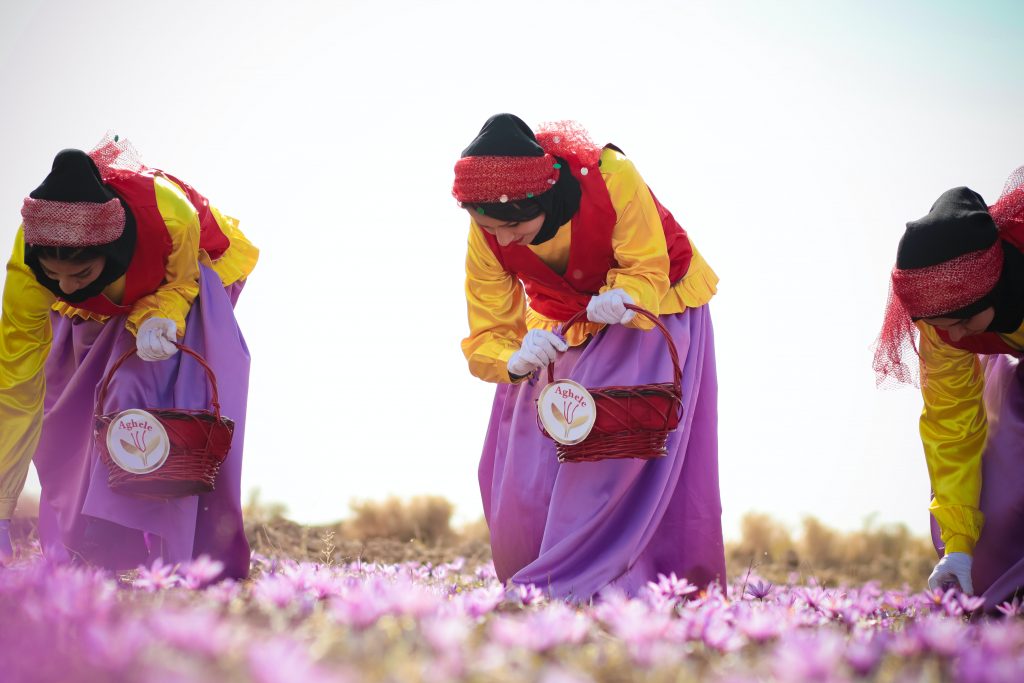 Saffron is a winter plant, its flower begins to bloom in November in Iran until December. The flowers must be harvested early in the morning as the flower wilts quickly during the day and the stigmas will lose their qualities. The harvest is manual and takes place in several passages depending on the flowering. This is one of the main reasons justifying the elevated cost of this spice.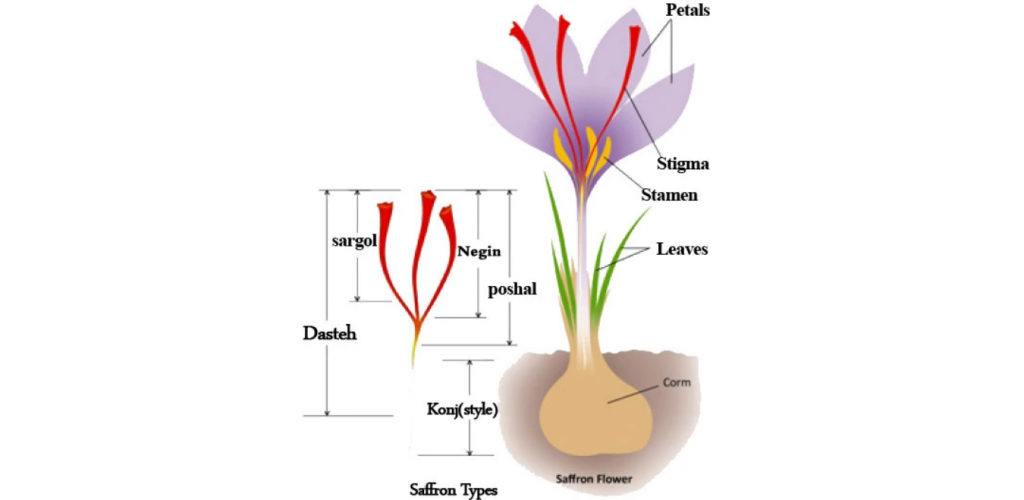 Each saffron bulb produces 6 to 9 leaves. This plant is of great value thanks to its 3 very visible red stigmas on the purple flower of the plant. The saffron sold is composed of these 3 dried red stigmas called "filaments".
Saffron growing conditions
Saffron is a high-lands crop, in general it vegetates normally at altitudes between 600 and 1200 m elevation.
– Temperature
The optimal temperature for flowering is between 23 and 27 °C (or 73 to 80°F). However, some researchers have found that flowering requires much lower temperatures 17 °C (or 63°F) according to Molina et al., 2005a, b. The crop can withstand many harsh temperatures, reaching up to 40 °C (or 104°F) in summer and -15 °C (or 5°F) in winter. Saffron can be grown in regions such as Quebec in Canada for example.
Indeed, the plant appears to withstand extreme temperatures, the snow cover in North America provides protection to the corms.
– Humidity
Dry summers (low air humidity) are generally optimal for saffron cultivation. In fact, corms are more susceptible to rot in areas with wet summers. In humid areas, an efficient soil or media drainage year round is recommanded.
– Edaphic requirements (soil)
Saffron needs a deep, light, well-draining soil rich in organic material. However, it tolerates soils up to 20 % limestone. Clay-limestone, clay-sandy textures are well suited. Too sandy soils should be avoided. The the most fertile soils facilitate vegetative growth at detriment of flowering. Water requirements are around 650 mm per year. The pH must be between around 5-8.
– Growing cycle
The annual growing cycle of saffron involves five major stages: sprouting, flowering, leaf development, development of daughter corms and dormancy:
Growing saffron under greenhouses ?
Using a low-tech greenhouse has many advantages:

– Easy to build and low cost
– Protected environment, but not too hot
– Already used by many for other crops
The U.S. imports more than 46 tons of saffron each year and the demand is growing. The University of Vermont's has done a lot of studies about the saffron cultivation potential in the so called "Green State" to offer a chance for the growers to diversify their incomes.
The most labor intensive part of the saffon cultivation are harvesting and processing. In comparison, the culture cycle is much less demanding (low-input).
Researchers agreed that high tunnel greenhouses provide good protection during the winters. Morevoer, it can be used for other crops in the spring and summer.
Good to know: a 30′ x 96′ high tunnel can be approved by the NRCS grants in the USA
Conclusion
Saffron is a very high added value crop which presents a lot of covetousness. Its demand will grow strongly around the world in the coming years…
The high tunnel or freestanding greenhouse will provide protection against the frost and the vagaries of the external environment. In addition, the greenhouse will protect the crop from pests and pests that can destroy plants.
However, there are still many questions about the profitability of growing saffron in greenhouses on a larger scale… It is better to do small scale trials.
Sources:
Phenological Growth stages of saffron Plant (Crocus sativus L.) according to the BBCH Scale: https://www.researchgate.net/publication/282481894_Phenological_Growth_stages_of_saffron_Plant_Crocus_sativus_L_according_to_the_BBCH_Scale
Cultiver le safran au Québec (French):
https://www.youtube.com/watch?v=tZItnJtWwn4&ab_channel=Radio-CanadaInfo
Golden opportunity: Saffron farm blooms in Stowe (April 2020): https://www.vtcng.com/stowetoday/food_and_drink/golden-opportunity-saffron-farm-blooms-in-stowe/article_15a333d4-f5d1-11e9-8f16-b7f96a17edd3.html
Growing Saffron: A Complete Guide to Planting and Taking Care of Saffron at Home:
How To Grow Saffron: Research Farm To Home Garden:
https://www.americanmeadows.com/blog/2016/11/16/how-to-grow-saffron-home-garden
IQDHO Culture du safran (French):
https://www.agrireseau.net/documents/Document_94942.pdf
M.A. Behdani, A. Koocheki, M. Nassiri and P. Rezvani, 2008. Models to Predict Flowering Time in the Main Saffron Production Regions of Khorasan Province. Journal of Applied Sciences, 8: 907-909. https://scialert.net/fulltext/?doi=jas.2008.907.909
M.A. Behdani, A. Koocheki, M. Nassiri and P. Rezvani, 2008. Models to Predict Flowering Time in the Main Saffron Production Regions of Khorasan Province. Journal of Applied Sciences, 8: 907-909.
Molina, R.V., M. Valero, Y. Navarro, J.L. Guardiola and A. Garcia-Luis, 2005. Temperature effects on flower formation in saffron (Crocus sativus L.). Sci. Hort., 103: 361-379.
Phenological Growth stages of saffron Plant (Crocus sativus L.) according to the BBCH Scale:
https://www.researchgate.net/publication/282481894_Phenological_Growth_stages_of_saffron_Plant_Crocus_sativus_L_according_to_the_BBCH_Scale